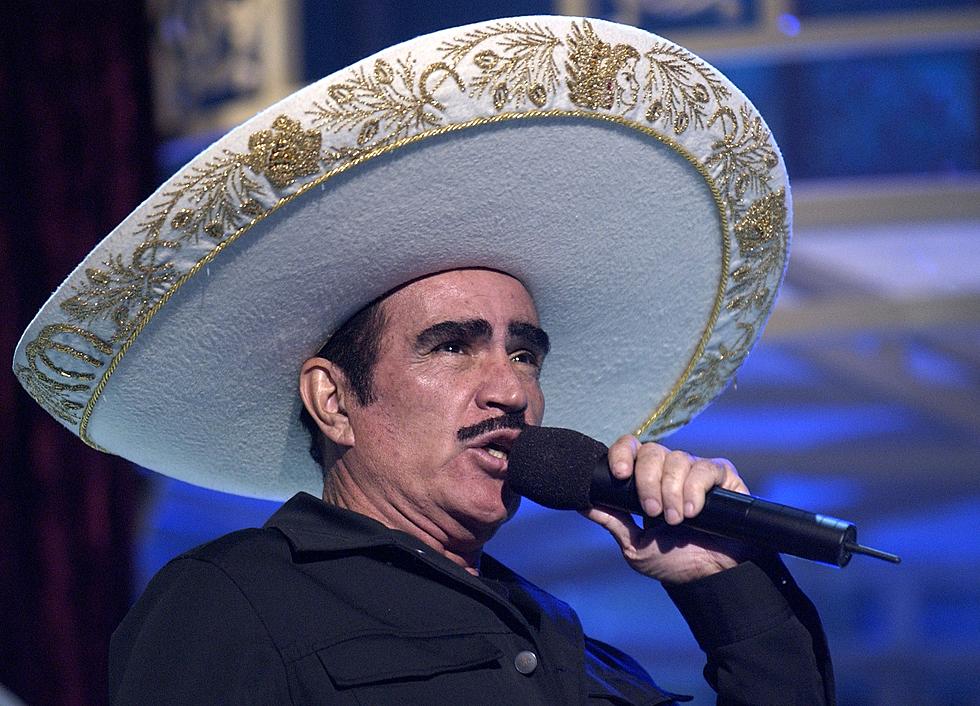 El Paso Fans Mourn "El Rey" Of Mariachi Music Vicente Fernandez
Getty Images
Vicente Fernandez, one of Mexico's national treasures, has passed away, and now his fans across the globe, including in El Paso, are mourning his death.
Only a handful of Mexican artists have defined and influenced our Mexican culture, such as Pedro Infante, Javier Solis, Juan Gabriel, and of course, Vicente Fernandez.
Dressed in traditional charros wear, Vicente Fernandez always wore intricately detailed pants and a short embroidered coat, along with a big silk bow tie and broad wide-rimmed sombrero during his performances.
Nicknamed "El Charro de Huentitán" (The Charro from Huentitán), "El Ídolo de México" (The Idol of Mexico), and "El Rey de la Música Ranchera" (The King of Ranchera Music), the Sinatra of Mariachis, Vicente Fernandez was a larger than life figure best known simply as Chente.
Led by his powerful voice, Chente was the last of the undisputed symbols of Mariachi / Ranchera music, Mexican popular culture, and an icon across generations. For decades Vicente Fernández has inspired and moved fans with songs like El Rey, De Qué Manera Te Olvido, Volver Volver, and Por Tu Maldito Amor and many many more.
In my family, like many others across the borderland, Vicente's music has been an integral part of our childhood soundtrack; from life celebrations to mourning a loved one, Chente's music has always applied.
Fernández, whose health had been ailing for the last few years, fell at his home ranch over the summer in Guadalajara and was hospitalized, requiring surgery.
Sadly, Fernandez's health continued to deteriorate, and his family confirmed that the singer had been diagnosed with Guillen-Barré syndrome along with a collapsed lung a few days ago that required he be placed on a ventilator.
Today, on December 12, Vicente Fernandez passed at the age of 81 on the same day of the celebration of the Virgen de Guadalupe, which is a significant day for Catholic faithful across Latin America and for Fernandez who would always include an image of the Virgen in his concerts.
While the King of Rancheras did not claim to be a great composer of music, he did record more than 50 albums, sold over 70 million copies, and starred in 34 films in Mexican cinema. He also won countless awards, including three Grammy's, and recorded more than 300 songs making him one of the best-selling and one of Mexico's most beloved artists of all time.
While death may have silenced Chente's voice at 6:15 this morning, his legendary music will continue to inspire and console his fans and perhaps is now serenading La Virgen de Guadalupe as she welcomes him with open arms.
Here's Where To Find All 9 Of El Paso's Balloon Mural Series:
25 Celebrities Who Have Stayed at The Historic Hotel Paso del Norte