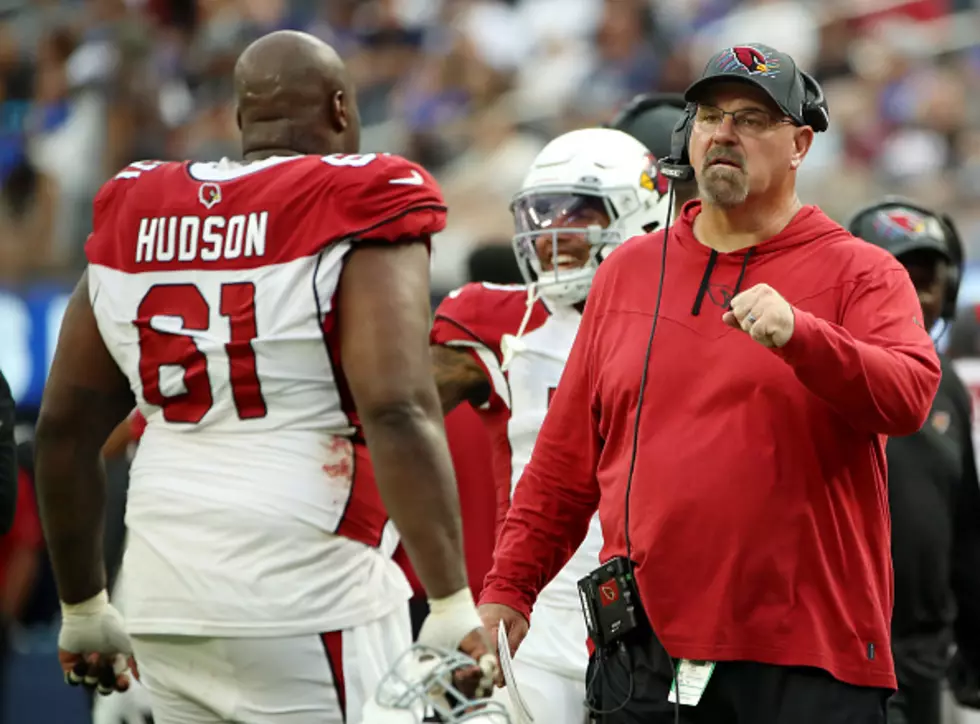 Coach Kugler Files Request for Arbitration, Cites 'Mistaken Identity'
Getty Images
In a bizarre turn of events following his firing from Arizona for allegedly touching a female inappropriately while traveling with the team in Mexico, fired Cardinals run game coordinator Sean Kugler has filed a request for arbitration and cites a "mistaken identity."
The former UTEP coach was sent home before the Cardinals faced the 49ers in Mexico City back in November. He was fired by head coach Kliff Kingsbury and the organization on Nov. 23. Now over three weeks later, the law firm of Shields Petitti filed the request for arbitration.
"The allegations against Coach Kugler are simply untrue and have caused Sean, his wife and family enormous personal and professional damage," stated Michael Petitti, Shields Petitti. "Coach and his family have been desperate to understand from the Cardinals front office and others what rationale or evidence was used to terminate him for cause."
Kugler, who coached the Miners from 2013-17, made his first statement since his firing on Friday.
"Respecting women is a core value for me, and something I have instilled in my children and the players that I coach," Coach Kugler stated. "The mysterious allegations by the Cardinals are untrue, and I want to clear my name. Be it a miscommunication or mistaken identity, my family and I will cooperate fully and honestly with the NFL, Cardinals, or any other agency to get to the truth in this matter and restore my reputation. There are incredible people that work in the game – from league level to my players, fellow coaches, and incredible support staff.  I simply want to get back to doing what I love, and would like my family to have peace."
If, as Kugler mentions, his identity in this situation was mistaken, why was Kugler fired? Some social media users are linking this story to the recent leave of absence by Cardinals general manager Steve Keim to the situation.
Still, Arizona stands by their initial firing. As NFL insider Ian Rapoport mentioned, the Cardinals believe they "had good cause to terminate Mr. Kugler's employment."
This will be an interesting story to watch as it develops.
NFL Franchises With One Super Bowl Championship
A dozen NFL teams have never won a Super Bowl, while fifteen teams have won multiple Super Bowls. Five franchises have only won 1.