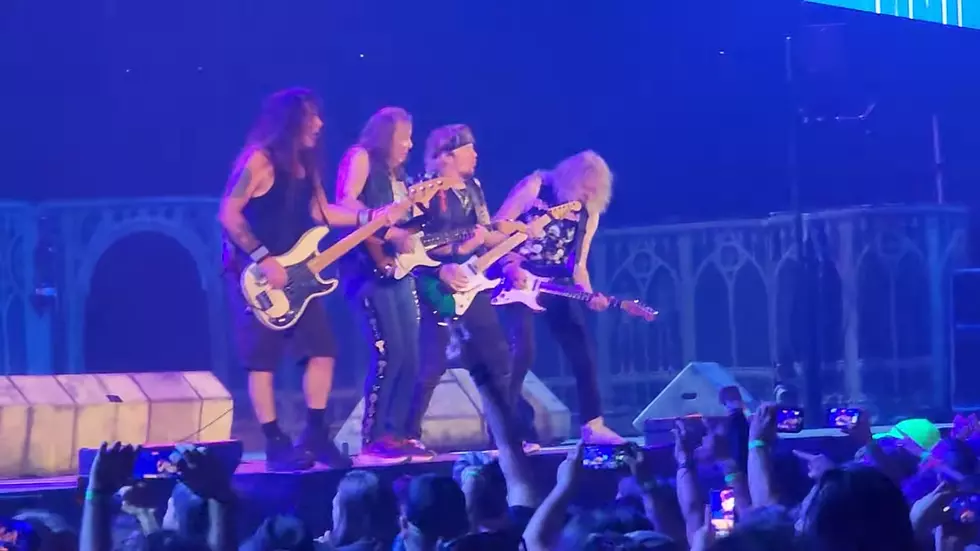 2022 Was A Great Year For Rock Shows In El Paso
Randy Walton via YouTube
Another year has come & gone; but one thing is for certain... we've had some AMAZING shows in 2022. We definitely have more to look forward to in 2023, like Greta Van Fleet/Rival Sons, Tantric, Motley Crue/Def Leppard...
But let's look back on some of the great concerts we had in the year of 2022:
One of my favorite moments for KLAQ came in March when I got to interview Matt Brandyberry of From Ashes To New, just days before their concert at the Rockhouse.
The other bands that were there: Blind Channel, Fire From the Gods, As Above & Kingdom Collapse. They were all great too.
Another one of MY favorite shows happened on September 11th at the Don Haskins; when Iron Maiden brought their Legacy of the Beast Tour
Another show the classic rock fans loved happened just a week after Iron Maiden; The Scorpions performed at the Don Haskins Center on the 18th.
We saw the return of Papa Roach & Falling In Reverse, along with Hollywood Undead & bad Wolves during the Rockzilla Tour at Speaking Rock.
One of the coolest things I saw at a concert was seeing a fan perform on stage with Hollywood Undead.
Possibly one of the most intense shows the Don Haskins saw was when Killswitch Engage & Lamb of God came to El Paso in October.
One show that we got late October was Blue October at the Plaza Theater on the 25th. Tons of El Paso fans were excited to see the fellow Texans rock the Sun City. (btw how fitting Blue October played IN the month of October...)
Not even a week later; we celebrated Halloween the right way; with the Trinity Of Terror: Ice Nine Kills/Motionless In White/Black Veil Brides & Atreyu all came to make this year awesome at the County Coliseum
But I'd be remised if I didn't mention names like Dorothy, Jack White,  Goo Goo Dolls, New Years Day, Interpol, Modest Mouse, Puscifer, The HU or Dead Poet Society. All artists who gave some amazing concert memories in El Paso in 2022.
Here's to 2023 being an even BETTER year to rock out in El Paso.
The Still Panicking Tour In El Paso: From Ashes To New & More 2022
The "Still Panicking" Tour came to the Rockhouse in El Paso March 27th, 2022. From Ashes To New, Fire From the Gods, Blind Channel, Kingdom Collapse & Above Snakes all performed that night so if you missed the show, or want to relive that night, here's some photos from that loud night.
27 Stores & Restaurants El Pasoans Will Drive Hours For