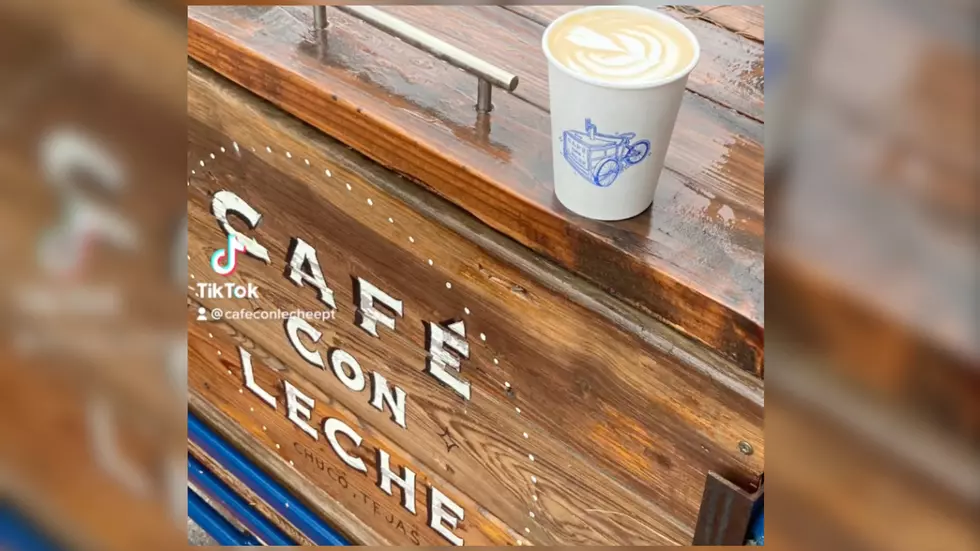 Enjoy A Coffee At These Local Coffee Shops Ranked as Yelp's Best in El Paso
Courtesy: Cafe Con Leche
Dear Coffee, I LOVE YOU SO SO SO SO MUCH! And I miss you. I am a huge coffee lover but I decided to pause my coffee addiction for a bit to try other caffeine alternatives, but I think I'll be coming out of my coffee ban for at least one day. National Coffee day, duh!
This year, National Coffee Day lands on Thursday, September 28th, and International Coffee Day lands just two days after, Saturday, October 1st so what better way to celebrate these two amazing national holidays than by enjoying a nice hot or cold cup of coffee at these local Coffee shops that are ranked as Yelp's best Coffee Shops in El Paso.
Rally Point is a female, veteran, and locally owned coffee shop that takes pride in offering locally roasted coffee as well as cocktails and tea! 
LOCATION: 
4726 Woodrow Bean Transmountain Dr. El Paso, TX 79924
Salt & Honey is locally owned and not only do they serve some amazing coffee, but you can also grab breakfast or lunch there too as well as some tasty desserts or an adult beverage.
LOCATION:
801 N Piedras St Ste 6 El Paso, TX 79903
8: Capri Coffee & Cocktails 
Capri is located right near the UTEP campus and is the perfect spot to hang out with friends or for a business meeting. Not only do they serve some pretty good coffee, but they also have some signature cocktail drinks in case coffee isn't your vibe.
LOCATION:
111 E Robinson Ave El Paso, TX 79902
Ok, so I wasn't hungry and then I crept on Joe Vinny & Bronsons Instagram page and if anyone needs me, I'll be there eating everything off their menu!
Joe Vinny's is the place to go for some great coffee, breakfast, lunch and you can even order a beer to go for later in the day! That's a win in my book.
LOCATION: 
824 N Piedras St El Paso, TX 79903
6: Coffee Box 
If you've been downtown then you've probably seen this coffee shop or maybe you've even stopped by for some coffee.
Coffee Box has been awarded the best coffee shop in El Paso since 2017. Located in the heart of the city, Coffee Box offers premium roasted coffee from around the world and some delicious pastries as well.
LOCATION:
401 N Mesa St El Paso, TX 79901
This east El Paso Coffee shop serves Specialty coffee roasters and it even has an espresso bar for those who need that extra pump to start their day.
LOCATION:
11385 James Watt Dr. Ste B-6 El Paso, TX 79936
4: Cafe & Canela 
"The owner was so sweet! The food is so delicious and the coffee is unbeatable! Definitely stop by for breakfast/ brunch."
LOCATION:
10280 Montana Ave El Paso, TX 79925
3: Viejo Coffee
Everyone's favorite place to get coffee in a bag comes in at number 3 on Yelp's list. Viejo coffee recently moved from its downtown location to west El Paso on Stanton St. 
LOCATION:
2519 N Stanton El Paso, TX 79902
This "Tiny Cafe" prides itself in having built great direct relationships with farmers who produce their coffee south of the Rio Grande. 
"In 2018, we went into business, taking a tricycle, mounting a Nitro tap, and selling Cold Brewed Coffee. We have since evolved into a canning production, focused on hand-crafted, health-conscious, and all-natural, Nitro infused beverages. Our growing business now includes a Tiny Café, RTD (Ready to Drink) Manufacturing, and Coffee Roasting."
LOCATION:
2430 Wyoming Ave El Paso, TX 79901
District Coffee is located in downtown El Paso. They serve specialty hot or iced coffees, lattes, and teas for those who prefer tea over coffee.
LOCATION:
222 Texas Ave Ste F El Paso, TX 79901
Best Waffles in El Paso